Now Scooping!
All of our ice cream is made in shop with no artificial flavors, added stabilizers, or emulsifiers.
When you want a little more crunch to your bite of chocolate ice cream, our chocolate walnut is sure to please! For those wary of dark chocolate, we use a more balanced chocolate base as opposed to our darker Dutch Chocolate.
A fresh coconut flavor with bits of shredded coconut added for extra coconutty goodness!
Cookie Dough
Beginning with our Chelsea's Choice base and adding our vegan chocolate chip cookie dough, this is our take on cookies and cream for those wanting something a bit more indulgent!
We use Dutch process cocoa, which is milder and less acidic than regular cocoa, giving this chocolate ice cream less of a bite than regular dark chocolate.
Bring out the holiday cookie cutters, because this is the ice cream equivalent of those person shaped baked goods! Made with molasses and spice, it is sure to remind you of rolling out dough and decorating cookies!
Instead of just a single minty note, we wanted something a bit more complex. Our mint flavor is a combination of spearmint and peppermint, giving us the mint nuance we were looking for. Why is our mint chip not green? Because we do not use food coloring.
More than just coffee flavor, our mocha has an almost espresso quality to it with a hint of chocolate from the cocoa and a bit of dark palm sugar, both complementing the coffee flavor.
While many commercial pistachio pastes rely on additives and stabilizers for a consistent product, we make our own pistachio paste using nothing but pistachio kernels and only when offering this flavor.
Starting with pure cane sugar, we caramelize it ourselves for each batch before adding some flaky Maldon sea salt to give it that hint of saltiness.
Previous Flavors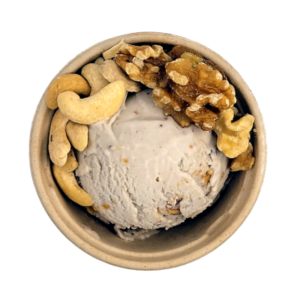 Reminiscent of gooey banana bread, our toasted walnuts give it some crunch. A fall reminder for the, very, mild Florida fall season.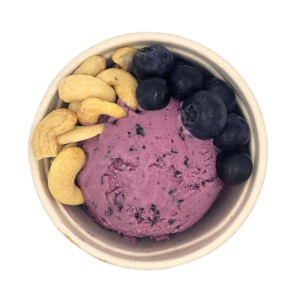 Made from fresh blueberries! Our blueberry ice cream uses whole blueberries blended into our cashew base to remind you of the little joys of a very berry summer!
Chelsea's Chocolate Chip
GF
A complex white chocolatey, coconutty, malty flavor. Difficult to place. If you like vanilla, give this a taste!
Not wanting the chocolate to overpower the mint, we created a different chocolate base than our Dutch chocolate that lets the mint shine while still providing chocolatey goodness.
Made with a cold brew of Earl Grey tea, the characteristic bergamot flavor comes at you on the back end while an almost chocolatey note greets you first.
A refreshing flavor perfect for the Florida heat. The cleanness of the lemongrass pairs with the subtle licorice spice of the Thai basil. Certainly one to give a try!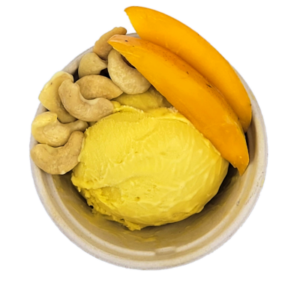 Made with fresh yellow mangoes, this seasonal flavor is our creamy take on mango ice cream.
Wanting an authentic maple flavor, we sweetened this flavor with both maple sugar and maple syrup. Mixed in we added some chopped and toasted walnuts to give it that extra crunch.
Masala Chai
We cold brew our black tea blend with a blend of cinnamon, ginger, and cardamom spices to give it a warming, spiced flavor, before adding some cracked black pepper at the end for good measure.
A combination of pure orange juice and orange extract gives our ice cream a creamy orange flavor without being overpoweringly orange juice.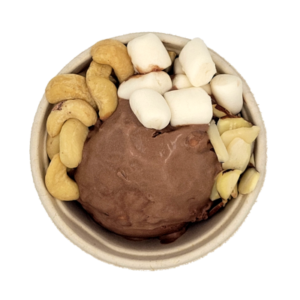 Prepare to indulge yourself in vegan marshmallows and almond pieces surrounded by our decadent chocolate ice cream!
Made using fresh strawberries, this seasonal variety is our creamy take on strawberry ice cream.
Tumeric
Steeped overnight, fresh turmeric and ginger brew alongside cinnamon and cardamom, giving this flavor the warmth of the ginger on the front, earthiness of the turmeric on the back, and cinnamon spice throughout.